PeeVee in Mosquitoville
"Bzzzt"…slap…"bzzzt"…slap…"ouch"…slap…repeat. This is how our night at Mosquitoville went. Of course we didn't know it was called Mosquitoville until it was too late or nearly too late. We had advance warning at Nancy Lake Resort but we're hearty Alaskans and not worried about a few pesky mosquitoes. Or are we?
Weekend numero deuce with PeeVee and we've entered the lottery phase of our familial existence. Jamie's brilliant plan (and by brilliant I truly mean this was an awesome idea and any sarcasm taken is solely the interpretation of the reader and not the intent of the author; I love you Jamie and this is a great idea and I don't want you to read anything else into it, damit) was to write the names of all the campgrounds we want to visit within one hundred miles on slips of paper and let Madeleine draw from a cup moments before we leave the house (can you feel the anticipaton?).
Madeleine drew Hatcher's Pass and after a quick check of the internet they don't have bathrooms at the State campground so Mad drew again. South Rolly Lake. Go figure. Deep inside Nancy Lake State Recreation Area, this is the place Jamie, via Val, has been raving about for weeks as "the best camping ever." They had a pop-up and we've got a tow-behind so it's got to be just that much better of an experience for us, right?
Mad and I had gotten the propane tanks filled earlier in the morning and Jamie had loaded up the PeeVee while we were out so we were out of the driveway and on the road a full hour ahead of last Saturday and the stress level was considerably less. I suppose it will get easier each time out. The driving was definitely easier not that I've got a couple hundred miles of tow-behind experience.
We rolled up the Parks Highway and into the Nancy Lake Resort & Marina parking lot just at the stroke of noon. We asked the trio of locals in lawn chairs in front of the office "how do we get to South Rolly Lake (google satellite map)?" "Let me get you a map," the one guy replied. "Headed to Mosquitoville," the gal said; I could tell from her laugh it wasn't a question. The one guy came back out and showed me on the map how to get there. I thanked them all and we headed back to the highway. "Mosquitoville" Jamie and I questioned in unison? Yes. But that will come.

Train going the other way; HEP unit on the back end (photo by Jamie; cropped by Jon).

Our second wrong turn came just the other side of the White's Crossing rail overpass when we turned into the East Nancy Lake campground. I was just following the signs and I hadn't seen the map; it's not an excuse, it's a reason. We rolled through, I got a look at the map, pulled a U-turn and we headed back out. Finally turning in to the right road, Nancy Lake Parkway, we made our way to the toll booth. The aged attendant, probably a camp host, happily took or money (can you say Prozac?) and tried to give me another map. She placed our overnight parking sticker in the front window of the Expedition and smiled and made small talk with Vv, who wouldn't have any of it. We thanked her and were on our way.
It's 6.5 miles of mostly washboard road to South Rolly Lake Campground. I thought my kidneys were going to shake out on the way there. Jamie, now better acquainted with the map, ticked off the milepost highlights as we went. Upon reaching the South Rolly Lake Campground area we took the tour (something we witnessed nearly every other camper do that came into the site for the next day). Basically it's a big loop with two or three cut throughs. We chose a site on the Sand Pit because it looked like a good place for the kids to play, there were toilets nearby, we could see the lake and the canoe rental shop was there, just in case. There are pros and cons to everything. We were one site over from Grand Central Station with nearly everybody that came into the campground coming within engine noise distance of our site and nestled between two pools of prime mosquito breeding grounds, hence the Mosquitoville designation. But it was sunny and dry and the sand pit WAS an awesome place for the girls to play and to make some new friends.

Sandy Bottoms (photo by Jamie; cropped by Jon)

The landing of the PeeVee is pretty straight forward. Back it in, un-hitch it, level it up and light the pilot lights; those are my parts of the landing anyway. The space was wide enough but there was one big boulder (that looked like a stump in my rearview) that Jamie guided me past. I got her in close enough of the first try and soon we were grounded and ready to start cooking. The sun was warm and bright and there were a few, the few, the proud, the starving, mosquitoes about, but not enough to raise any concerns.

Artistic impression of Spruce and sunlight. Jamie says, "don't take pictures of the sun. You'll burn out your retina." (photo by Jon)


Jamie avoiding the camera, Vv oblivious and Mad nowhere in sight; aka in the Sand Pit (photo by Jon).

Jamie and Mad went for a walking tour of the site, Vv went down for a nap although she didn't and I was left to sit and ponder. I found a pencil but no pad so I went down for a nap, although Vv didn't give me any rest. When the girls got back we all got up and went for a hike down to the lake. Tippecanoe is the rental place. I didn't get a close look at the prices but the rentals started with an 8 hour interval then went to half day and full day. Jamie wanted to rent a canoe but we didn't. I'm keeping my eye on Craigslist Anchorage for one.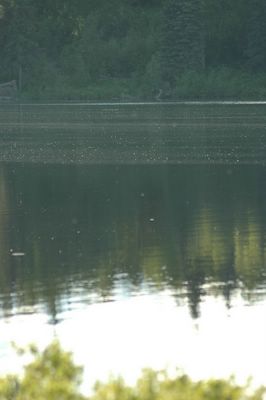 Dots on the water? No, bugs! Millions and millions of bugs destined to be IN MY PeeVee (photo by Jamie; cropped by Jon)

We returned to the site, Jamie started dinner and I started the fire. This fire building experience was much more pleasurable than Whittier and the inauguration of the PeeVee. We had purchased some wood earlier (on a hike to visit the local camp host; they're everywhere) and it was crispy and ready to burn. This wood, along with the remainder mixed wood from the PeeVee and some Spruce boughs had the fire roaring in minutes. Aaaah, the joys of dry wood. First order of business, Smores.

Food of the Gods (photo by Jamie; cropped by Jon)

It's always the simplest things that make life so good. Some graham crackers, chocolate with almonds, puffed sugar, add some flames and you've got snack. My mouth is watering from the memories. If I were ever to be called a campfire gourmet, which isn't a fear of mine, this would be my specialty. I did recently find a recipe online for marshmallows. Someday I will give this a try.

In the evening, camped and burnin' wood (photo by Jamie; cropped by Jon).

As the evening wore on Mad headed back to the sand pit (pretty much where she spent most of her time while we were at Mosquitoville) and Jamie and I got a visit from our favorite entertainer, Boozo the Clown.

Nothing quite like a happy drunk, er, child. (photo by Jamie; cropped by Jon)

Vv got a kick out of licking the last drops from a couple Alaskan Amber bottles. Jamie has the camera and voila, crime photos. Is it enough that I admit my little indiscretions on the internet? Should I turn myself in to the local constabulary? Naaaaah, I figure these will be great blackmail when she gets into high school (and trouble). She's a fun kid and at this point in the evening she was double fisting Amber fumes and a Sponge Bob Square Pants sippy cup of water, plain AWWU water straight from the tap at home. Gotta love the little booze hound.

Smokey PeeVee (photo by Jamie; cropped by Jon)

After we put Vv to bed Jamie wandered off to get some pictures, the sun was just right, and I was left to my own devices around camp. I wandered over towards the Expedition to make sure Mad was still in the sand pit and I found a sleeping bag zipper laying in the weeds. Being the kind and gentle camper I am I picked up this detritus and threw it on the fire (well, I've got to have something to burn, er, play with while Jamie's out). I didn't know a zipper would burn like that but it went slowly, taking about a half hour to burn from one end to the other end of it's six foot or so length.

Burn baby burn. The "good" photo of this will be on one of Jamie's blogs soon (photo by Jamie, cropped by Jon)

Jamie got Mad coaxed back to camp and threw a few burgers on the firepit grill.
Other than a couple zipper teeth on the back of mine (I think it was somebody's revenge that got those only on my piece) they were mighty tasty or as Jamie put it, "those were some really good burgers."
My only complaint, the PeeVee has yet to be stocked with condiments and if that's my only complaint then we're doing good.
Mad goes to bed and, Aaaah, bliss again as I finally get the chance to enjoy some peace and quit with Jamie. Then Blurry the Squirrel shows up to raid the Doritos.

And he hadn't even been drinking (photo by Jamie; cropped by Jon).

We let him eat his fill; or rather he took what he wanted in spite of us.
We let the fire die down and by the time Jamie and I decided to retire the mosquito situation was like the entire 96 minutes of
Night of the Living Dead
.
The PeeVee was absolutely FULL of mosquitoes.
I guess my rants, nay shouts, all day long along the lines of "keep the door closed" just didn't do the trick.
But they weren't biting yet.
It wasn't until about 5:30, you know, you're at that "I've been doing some serious sleeping for several hours now so don't bug me" stage, when they started to attack.
"Bzzzt"…slap…"bzzzt"…slap…"ouch"…slap…repeat, but you've already heard that. I swear, there were probably fewer bugs outside the PeeVee at that point than there were inside and there was little we could do. Prior to getting into bed Jamie and I tossed back and forth the idea of brining the mosquito coil in with us. Next time, if there is a next time, we're bringing incense. The worst of it for me is that I'm pretty hot blooded, as in almost always too hot, and I had to stay inside the sleeping bag and under my pillow to keep from being eaten alive. We were all up and swatting at bugs as a family by 8:30. Aaaah, the memories.
We hitched up shortly after 9 and were on the road before 9:30 and here I am barely 12 hours later bloggin' it all up for you.
We will be taking a few weeks off from The PeeVee Chronicles. With the Alaska Run for Women and WOW Pink Ribbon Ride both this coming Saturday and the Stephen Wales Memorial Run on Sunday we will be on our motorcycles most of the weekend and won't have a chance to get out but I should be writing about all of that, just not the PeeVee.