13hours32minutes783.8miles - hour 3 and beyond
This picks up where the last post left off. Here's a brief synopsis:
Friday night, a few Fridays ago, I got a phone call from a guy in Fairbanks. "I'll pay what you're asking for that sidecar you have if you can deliver it to North Pole." I check my Pocket PC, Outlook, Dayrunner et al and ask, "will you be home on Sunday?"
I take my note pad and take notes (duh). Notes in
italics
with exposition in parenthesis after.
8:07 - Eureka / 119.5mi
(
Eureka lodge
has awesome pies. I didn't take the time to stop for some)
8:12 - Slide Mountain - 40degrees - 135mi
(
Slide Mountain cabins
is a cute little place that Jamie and I have never stayed at but we've talked about it from time to time. Maybe soon.)
8:18 - Dracula 2000 (CD)

8:20 - 2nd Motorhome

8:23 - 149mi - Copper River
(I spied a river with my little eye but more than likely it was the
Tazlina River
)
8:26 - want Metallica
(I don't know if it was the road, which was wide feakin' open, or something on the Dracula 2000 CD or perhaps the phrase "and the road becomes my bride" but I was Jones'n for some Metallica. Why, oh why, hadn't I packed the black album?)
A picture over my shoulder somewhere before Glennallen. I don't know what I was trying to capture but this is the last picture of the Flamecar in my ownership.

8:27 - 3rd Motorhome

8:32 - is speeding a crime
(ok, we all know that speeding is "against the law" but is it a crime? Here's my reasoning? In "the media" you hear about the crime rate. It's going up. It's going down. It's going nowhere fast. Are traffic infractions reflected in "the crime rate?" I want to know? Red light runners are a big deal in Anchorage. Is that a part of the crime rate? It's something to think about and, with roughly another 600 miles to go I had time to think)
8:46 - MP 180 / 170.6mi


Staring into the sun. Another sucky Jon picture. This is Mt. Drumm (part of the
Wrangell Mountains
).

8:49 - Ptarmigan

8:50 - 40mph zone
(I hate having to slow down, especially for civilization.
Glennallen
)
8:54 - Richardson 179.5mi
(This is one of severl "Y's" in Alaska. The intersection of the Glenn Highway and the Richardson Highway is listed as being 189 miles from Anchorage)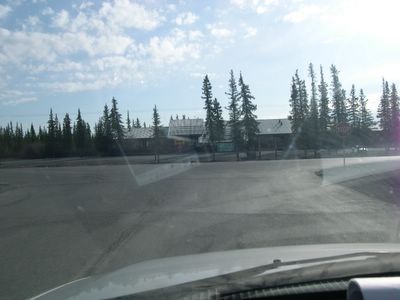 Glenn Richardson (no relation). The buildings straight ahead used to be the Ahtna Lodge hotel (pretty fancy for the middle of nowhere, er, Glennallen). It's state and federal offices now, I think. Dig the reflection of my iPAQ in the window and my note pad (attached) in the reflection and on the lower right. Is driving with a pen and notepad in your hands as dangerous as talking on a cell phone while driving? In the middle of nowhere?

8:57 - 4th & 5th Motorhomes - 2 Troopers - got flashed
(On the stretch of the Richardson Highway between Glennallen and Gakona I ALWAYS see Alaska State Troopers. This time I was cruising around 65 mph in a 55 zone. Motorhomes number 4 and 5 were a few car lenghts apart with Trooper 1 and Trooper 2 at the same interval. It's still technically civilization so when Trooper 1 flashed his lights at me I slowed down. I guess that was my warning shot)

9:03 - Roadking
9:06 - 192.2 mi
(at the three hour mark my speed over ground average is 65.4mph)
9:07 - Tok cutoff - battery exhausted
(Well, my pictures have been mediocre at best to this point and now that the camera battery, which hadn't been charged since Hawaii, was exhaused they became extinct)
9:12 - Frost heaves
9:15 - Garbage 2.0 CD



9:19 - Drunk line painters - 40 miles to Pax - 120 miles to Delta
(I lived in Valdez, Alaska from 1976 to 1981. When my parents and I would "go to town" it was either Anchorage, 306 miles west, or Fairbanks, 385 miles north. Usually we would go to Anchorage because that saved two plus hours on the round trip but occasionally, or annually, we would go to Fairbanks. One year on our way to Fairbanks the white edge line stripes and the centerline yellow strips had been redone. I don't know if it was the aforementioned frost heaves or, as my Mother hypothesised, drunken line painters that were the cause but it's been a family joke ever since)
9:21 - pipeline - Sourdough - 212.4mi
(Pipeline was my first Trans Alaska Pipeline view, not counting where it comes up out of the ground then goes right back under at Pump Station 11. Sourdough is a roadhouse that is within a mile or two of halfway from Anchorage to Fairbanks on this road)
9:27 - Caribou
219.2mi (my 4th physical stop between Anchorage and North Pole was here when I noticed two caribou crossing the highway. In nearly 30 years in Alaska I can't recall ever seeing caribou up close other than at the zoo or mounted on somebody's wall. And me with no damn batteries in the camera. I didn't turn it off, but I stopped the truck and took a moment to watch them walk away. I even thanked them out loud from coming out for me to see. Hokey, prehaps, but I do respect wildlife. I respect even more that they had already crossed, that I saw them from about 3/4 of a mile away and that neither of them ended up as hood ornaments for my truck)
9:37 - 9:40 - June & Nita Lake Piss Stop 231.0mi
(5th stop; no additional comment)
9:46 - junk van
(I wonder about stuff. When I drive, or ride, I wonder a lot. There was this junk white van. The roof had been crushed; possibly from a rollover, possibly from somebody jumping on it. It was partially obscurred by budding alders and I passed it so quick that I didn't notice if it had wheels or tires but I wonder how it got there. I wonder whose it was. How does somebody just decide "I think I'll leave this here." How does something get abandoned in the middle of nowhere? How?)
9:47 - shot sign - small
(I'm fascinated with the redneck pastime of shooting signs. The best one is at 20 Mile Creek on the Seward Highway near the Portage Road. The sign, all shot up, says "NO TARGET SHOOTING." I'm sure Shuttergirl will capture it for me someday)
9:49 - 241.5mi Gravel
(part of this trip was to take a look at the road for Jamie because we have a trip planned out that way. HEY JAMIE! There's gravel 'bout 241.5 miles from our house. The rub is that we plan to bypass this stretch of road and go through Tok instead, but not because of this gravel patch)
9:56 - Pax
(
Paxon Lodge
was my next gas stop but doin' the math in my head I figure I've got plenty of gas to get me the next 80 or so miles to Delta)
9:58 - called Dennis - left message - snow
(amazingly there is cellular service right around Paxson. I called Dennis, more about Dennis coming up, and left him my # to call back so we could meet for lunch. Just up the highway about a mile or two from Paxson the area is known as Summit. They hold
Arctic Man
at Summit. I've never been to Arctic Man. Someday. I was surprised that most of the snow was gone until Summit, then there it was, all over the place)
10:02 - CD dumb 2
(another big curve, this one along Summit Lake)
10:06 - 261.6mi - MP197
(at the 4 hour mark I have sustained an average 65.4mph. I was just past Summit Lake at this point. There was snow on the lake but it was thinning with obvious mushy spots)
10:09 - The Knot
(I do not profess to be an uber fan but I dig
Slipknot
. Something about loud music and the open road thrills me)
10:15 - 274.0mi - Dean's Gun
(somewhere in this canyon on a motorcycle trip in the other direction with Steve, Anne and Brian we stopped and each fired off a few rounds from Dean's gun. Dean and JoAnn were cleaning house getting ready to move to Parumph and Brian had picked up a few pieces, one of which was this little 9mm. We each popped off a few rounds at nothing in particular, then we hopped back on the bikes and sped off. Around the next corner was a construction site and we ended up stopping again for about 15 minutes to wait for the pilot car. I remember that constuction site well because there was a 2 mile stretch of deep gravel. I thought I was going down more than once and I was the lead bike so I know my ass would have been run over)
10:17 - White bird
(It might have been a Seagull, it might have been a Ptarmigan. I don't know. It's strange but there are Seagulls all over in Interior Alaska. It makes no sense to me. What strange lives the seabirds of Interior Alaska must lead).
10:20 - Cop or not?
(The game that's sweeping the nation's higways: Cop or Not Cop? It must be hour 4 paranoia. I know that there are two troopers behind me so I shouldn't worry but I still have to play Cop or Not Cop in my head. I'm sure the rules are clear enough that I don't have to go into detail but, basically, you guess whether or not the vehicle coming towards you is a cop or not based on it's color, shape and size as quickly as you can before you get pulled over for doing something CRIMINAL [insert evil laughter here])
10:22 - Squirrel
(for the sake of wildlife diversity. It wasn't even roadkill)
10:25 - 6 cars - 4/2
(since Paxson I have encountered a total of 6 vehicles, 4 heading South, 2 I have passed heading North. I don't mean to imply that this stretch of road is deserted but I passed a total of 6 vehicles in 29 minutes)
10:36 - 300mi
(66.666666667 mph speed made good)
10:40 - Dome
(this is where I spotted the
Donnely Dome
)
10:43 - Voicemail
(It was Dennis, calling me back. He called back about 2 minutes after I called near Paxson and explained that his phone never rang, it only told him he had a message. So much for cellular communications in the middle of nowhere. Maybe it's a government conspiracy [I'm not at liberty to discuss what Dennis does]. It takes me a few minutes/miles more to finally get in touch with him but Dennis and I plan to meet for lunch in a couple minutes when I get to Delta)
10:57 - WIND _R_A
(here I go again with my twisted sign fascination. A and E from WIND AREA have been blown off. Is that Irony?)
11:00 - Delta - 35mph
(damnit, civilization again)
11:02 - Delta gas - 330.2mi - spinners griniding - old attendant - truck Trooper headed North - 5150 VH - Railcar
(These are MY notes. They don't HAVE to make sense. As I am filling the gas tank, 270 miles from my last gas stop mind you, I hear this sound. At first I think somebody's welding behind me. Do you know that scraping/popping sound welding makes? It wasn't welding. There were two PVC vent pipes with spinning tops that were grinding together. It was a freaky noise. I guess you had to be there. I've made an average speed of 66.04 mph to here. The aged attendant complained while trying to get my credit card to ring through that so many people have moved into Delta Junction that there aren't enough phone lines so they have some sort of time-share worked out on the phone system and as soon as a circuit opened up he'd be able to bill my credit card. I know I should have paid cash. I spot the truck Trooper [Fish and Wildlife aka Brown Shirt, but still a State Trooper] headed North and figure that with an hour head start I shouldn't catch up to him. 5150 was the cost of gas. I should have written down the
price per gallon
or the quantity. I hopped back in the truck to go find Dennis for lunch. There was a double decker rail car sitting off to the side of the road. That's probably not too curious to you but Delta Junction is at least 60 miles from the nearest piece of rail)
This catches me up to the end of hour 5 where I stop for lunch with Dennis. Some of what he shared is not common knowledge so I will pick-up after lunch when I get back on the road.