Vegas Baby - Out of Order (or Yo Ho Ho)
Ok, this was from near the end of the trip but Jamie has been bugging me to post a few pictures.
Our close friends Dean and Joann live in Pahrump, NV (about 70 miles West of Vegas). We visited them together in May of 2004, toured Death Valley with them and generally had four glourious days hangin' out at there house.
This trip I was solo and a few days before I left Anchorage I figured out that I would have 24 free hours after the Breast Cancer conference and Dean and Joann's was where I wanted to be.
I e-mailed that I was coming and asked if I could borrow their guest bed in exchange for dinner out on the town. "I know just the place for dinner," Dean replied. I passed this on to Jamie with my comment, "I bet it's the brothel."
When we had visited D&J in 2004 they took us to
Sheri's Ranch
, the better of the two brothels at the end of the road. It was really nice and we hung out and had drinks in the sports bar. After a while Jamie and I got a tour of a couple of the rooms but we didn't "do" anything there (other than the drinks).
At the end of the conference on Wednesday I hopped a cab to the airport and picked up my rental car. I knew roughly which way to go and ended up wandering past the
Las Vegas BMW
dealer on Interstate 215, so I doubled back and popped in for a look. I had hoped they would have the new K1200S for me to demo (I did have a trunk full of riding gear) but no such luck. Instead I begged off a key fob for Jamie. "Hey sales guy, you have any key rings you could give me that I could take home for my wife?" "You'll have to go ask over in the parts department," he replied. How Harley I thought. I turned to walk across the store and he said, "wait. I think I've got just the thing." He did. Score one free BMW key fob for the wife. Thanks sales guy.
Nice place but it reminded me too much of a carpet store and not enough of a motorcycle shop. Maybe it's because the "shop" is across the strip mall.

So I'm back on the road and, all delerious from swooning over bikes, I forgot to pull my handy dandy folding pocket map out to look for directions. So, I wandered West for a while, then I went South for a bit, then I got caught in a subdivision and ended up heading back to the East. So I stopped and pulled out my map. Facing the wrong direction but with a handful of directions this is what I saw.
Stopped, not exactly in the middle of nowhere, with a look back at the strip from the desert.

Back in the car with some direction (why hadn't I pulled out my GPS? I'm just now realizing that. It would have looked stupid mounted the the steering wheel of the rental Chevy) I found Hwy 160 and all the excitement that two lane has to offer.
I love the textures. Yeah, it's desert but it's got it's own funky beauty.

So, I roll into Pahrump and it's just like we'd left it: warm, sunny and ready for anything. I called Dean's cell from my cell and realized that mine is nearly dead. I remember roughly where their house is but I want better directions. It's not that I'm not willing to drive around Pahrump with my head hanging out the window screaming "Dean! Joann! Where do you live." I'm sure somebody who knows them would point the way to their house for me.
So, I get just enough directions from Dean before my cell phone dies. I roll into their driveway and their house is just like we left it. Nobody's home so I go over to the gate and harass the barking dogs. Fabio, Rex, Princess and Annie. Annie was going to be our dog. She was born right before Jamie was diagnosed. We decided that having a puppy in the house during Jamie's chemo would be too much stress so she stayed with Dean and Joann. The funniest bit was they all started barking when I jumped out of the car. It wasn't the "hey buddy, we missed you bark" that I would get from them here in Alaska; it was the "who the f$@! are you; you don't belong here" bark. It's funny how calling a dog by it's name will shut it up in a heartbeat. "Do we know this guy?" I'm sure none of them remembered me but I like to think that Annie missed me. "Hey food guy, where are our treats."
So, I hopped back in the car for a cat nap and my head barely hit the head rest when Dean pulled in. Hugs, hand shakes, damn I missed him. Dean is a great hangin' out guy. He could be the Uncle I never had. Or the weird neighbor. Nah, he's too cool to be the weird neighbor. It's comforting to me that Dean and Joann are on the short list of friends I know I will have forever (and I'm pretty sure the rest of you know who you are as well; copies of the list are available for $9.95; operaters are standing by; if you've got the number just give me a call; I'll fax it to you).
So, we have a couple beers in the garage, bullshit about friends in low places (is Colorado low? Lower than Seward?) and generally catch up on the ten months we've lost. Somewhere (subliminally or otherwise) the dinner bell rings and Dean asks if I'm ready for dinner. I don't "know" where we're going but I "KNOW" where we're going.
I love telling people that Joann works at a brothel. Usually it goes like this. "My friend Joann works at a whore house in Nevada." Long pause. "She's a retired correctional officer and she's working security at one of the nicest brothels I've ever seen (well, the only brothel I've ever seen outside of Spenard)." This is usually where whomever I just told this to either has a heavy sigh or somewhat of a look of relief on their face. It's the wind-up and the verbal pitch. I love it. So, there's no seeing Joann tonight unless we head out to the brothel. Twist my arm.
So, we hop into the DeanMobile, he fires it up and the headlights don't come on. He's been having trouble with the switch (which I'm sure is fixed by now) and his truck is a no go so I drive.
Sheri's Ranch has two doors a few feet apart, probably a third around the corner where the hotel entrance is (is there a hotel entrance?) but I haven't been around that way; one is the entrance to the Sports Bar and the other is the entrance to the Parlor.
I'll break down the entrance situation. The Sports Bar is exactly that. Too many TVs, a pool table, a classic horseshoe bar, posters of sports and racing guys, the requisite beer signs (neon and tin) and a stripper pole. Ok, maybe the stripper pole is more than a regular sports bar. It must be a fantasy league bar :-p Then there's the Parlor Door. The Parlor has a big leather couch, some stuffed chairs, a fireplace, a grand piano (maybe a baby, I'm not sure). In a word it's plush. The Parlor entrance has a doorbell, the Sports Bar does not. The doorbell is the signal to the ladies that there is a guest in need of, um, er, attention (blush, yeah, I blush on occasion). Unless you're lookin' for some womanly action you don't go a callin' to the Parlor door.
So, Dean and I go into the Sports Bar and order a couple drinks. After a few minutes Joann wanders in and we swap hugs. This is going to sound so lame but one of the things I love the most about Joann is her spunk. She always seems to be able to put a positive light on anything or at least a genuine smile when you're down. I miss having the two of them in my life more. Joann is working till 11pm so Dean dicides (twist my arm again) we'll wait for her. We order dinner. I have the best whorehouse Philly cheese steak I've ever had (read also as ONLY).
So, the big news at Sheri's Ranch is the celebrity. Celebrity? There are celebrity prosititutes? Yes, son, there are. HBO did a couple documentari
es calle
d Cathouse and
Cathouse II: Back in the Saddle
(go figure) and one of the women from the show had made the big move to Sheri's Ranch.
"Jon. Look over there. That's her," Joann said in a loud whisper. I'm no stranger to HBO (Jamie and I watch all those crazy documentaries; especially
Taxicab Confessions
) "That's
Airforce Amy
over there." Sure enough it was. She was taller than I expected. So Dean and I mind our drinks and keep workin' on that ten months of catching up and after a while someone brushes my arm. Flesh and blood standing at the end of my elbow is AirForce Amy. I blush. Well what would you do meeting a celebrity with her credentials? I mean, if I met Angelina Jolie I would be amazed because I'm familiar with her body of work, er, um. But Airforce Amy. Her body is her work and, well, that's just a touch on the intimates side. Honestly, the drinks were helpin' keep my blush from showing (I'd probably had a rosy blush for a while already). She was nice. She brought out some color glossies of herself and signed one for Dean and one for me. Then Joann asked if we could have some pictures together. "Sure," she says so I go into tourist mode, rush out to the rental and grab my camera.
Joann gets the camera, Amy takes my hand and we head into the parlor. This is a show and tell thing and ask me about it sometime and I'll show you but basically this is what happened. Amy took my left hand and put it on her left boob saying "hold this." Then she twisted around, her back to me, took my other hand and latched it onto her right boob. I'm not sure if she said it or I though it but somewhere (probably an subconscious non-memory) I heard "hang on" and she bent over in front of me and ground her butt into me. Oof.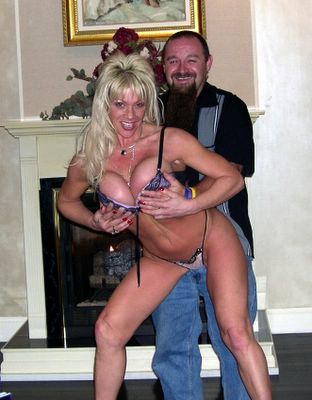 Flesh and Blood and a grin that just won't quit. I hate it when my cheeks hurt from smiling.

Wow. A picture with an honest to somebody celebrity prosititute. But wait, there's more. She stands up and starts to tug on my beard. Then she slides up against me and gives me a cash AS THE FLASH GOES OFF!!!!
Ok, maybe my cheeks weren't hurting from smiling but from trying to keep my mouth shut while she was yankin' on my beard.

If not for the corporate greed of HBO I would have had a lot of explaining to do when I got home. And how many guys can actually say they've "been" with Airforce Amy withoug actually "BEING" with Airforce Amy. Probably a lot, but I can dream.
Whew. I thank Amy (she didn't have to do any of that really and that was nice of her) and head back to Dean and my fresh drink. It's getting close to 11 and soon we're off back to Dean and Joann's. We spend an hour or so talking when we get home. I miss you guys.
What a night.
Next Post: Back on Track with Episode No.5 - A Lack of Freedom on the Freeway